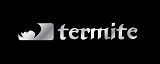 TERMITE to ludzie i ich pasja do tworzenia niezawodnych, opartych na innowacyjnych technologiach rozwiązań, które pozwalają spełnić oczekiwania najbardziej wymagających klientów. TERMITE to dynamiczny i starannie dobrany zespół, który zna potrzeby osób aktywnie spędzających czas.
Nasz zespół posiada doświadczenie i wie, jak wielkie znaczenie ma jakość sprzętu turystycznego.
Nieważne, czy zaczynasz przygodę, czy jesteś profesjonalistą, chętnie podzielimy się  naszym entuzjazmem z jakim tworzymy nasze produkty.