About Company
About company

"Target Zone" shop and its online counterpart at target zone.eu was created in the first quarter of 2015, based on years of experience in conducting online store with gadgets and games at StrefaGiG.pl and computer hardware, consumer electronics and household appliances under the name OnlinePC.pl

The sole owner and operator of shops TargetZone.eu and B2B.Jammas.pl is a family company Jammas Sp. z o. o. registered in the District Court for the Capital City Warsaw, XVI Commercial Department, under KRS number 446431, with registered office in 04-798 Warsaw, Cyklamenów 9A Street, with share capital height of 2.000.000,00 PLN fully paid in cash.

At the end of 2014 we started cooperation with several distributors and producers of non-conventional products primarily used for defence. This inspired us to open a completely new military store. From April 2016 we have the MSWiA License nr. B-029/2016 for the sale of firearms and ammunition, which expanded our offer. In 2018 we have obtained the ISO 9001 + AQAP certificate and the WSK certificate which opened the possibility for us to supply military institutions and export specialized products to all over the world.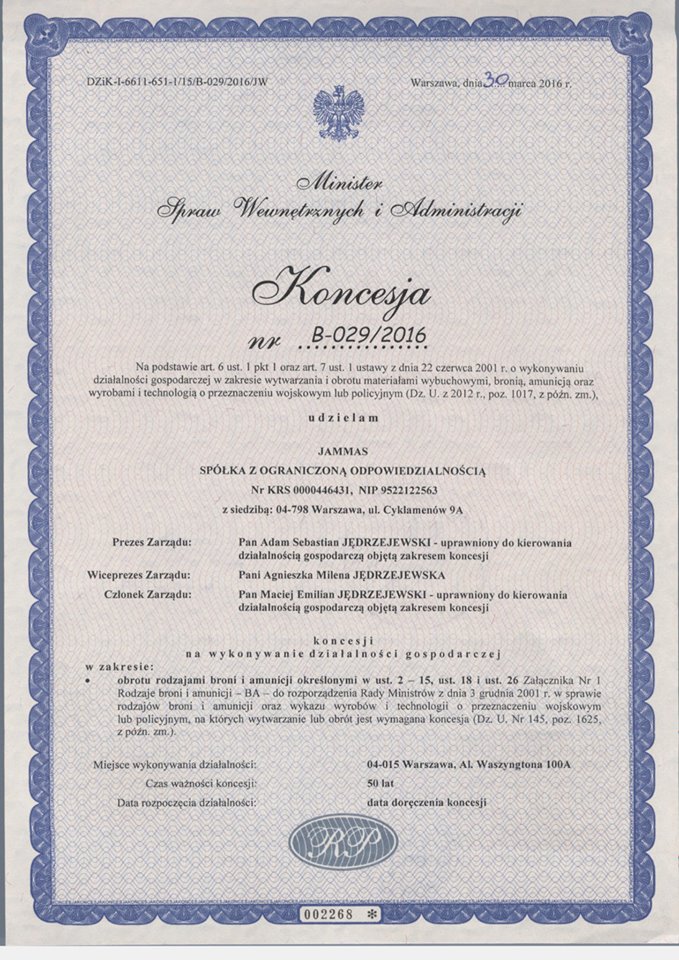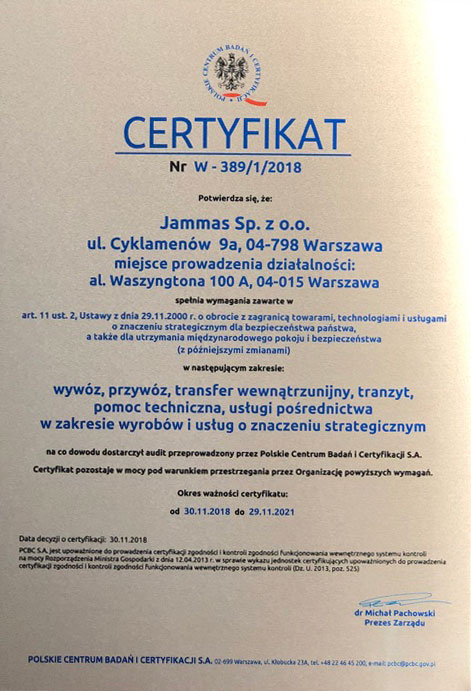 We immediately assumed that the store will be created both in the world of the Internet and in the real world and the offers of both these "worlds" will overlap. This means that the product marked as available in the online store is also available immediately from the shelf of a stationary store, without having to order it and waiting for many days.
Since the launch of TargetZone.eu, we have been constantly increasing its range, hoping that our offer will be appreciated by existing and future customers.

We also recommend:

B2B.Jammas.pl - online wholesale platform with the StrefaCelu.pl assortment from our own import.

Jammas Sp. z o.o.  - mother company website.
BUL Polska - official website of the Polish representative of the Bul Armory brand on the Polish market.
Armsan Polska - official website of the Polish representative of the Armsan brand on the Polish market.
Meprolight Polska - official website of the sole Polish representative of Meprolight advanced optical and tactical solutions, which is part of the SK Group.
BCM Polska - official site of the Polish distribution channel of the Bravo Company Manufacturing USA.
IMI Defense Polska - official website of the Polish distribution channel for Israeli firearms accessories.