LPVO Scope, Manufacturer : Riton, Model : 3 Tactix 1-8 × 24 SFP, FDE
Add feedback:

Code:

RIT-3T18ASIB

Manufacturer:

Riton Optics

EAN code:

5902808652861

Availability:

In stock

(

9

pcs.)
Available product is shipped within 24 hours
We complete the order within 24 hours. 
Shipping with FedEx courier within 2-7 days
You can return the product within 14 days.
LPVO Scope, Manufacturer : Riton, Model : 3 Tactix 1-8 × 24 SFP FDE
Riton Optics company provides a lifetime warranty on this product (warranty terms and conditions at the bottom of the page).
LPVO (Low Power Variable Optic). The 3 Tactix from U.S. manufacturer Riton Optics is equipped with an illuminated reticle, a 24mm objective lens and an adjustable zoom 1 - 8. The zoom is adjusted by a convenient lever mounted on the zoom knob.
Designed for 30mm diameter mounts, it features 100% waterproof, fog and shock resistance.
RETICLE, TURRETS, PARALLAX, FOCUS
The reticle & turrets are scaled in MOA unit. 1 click equals a 1/2 MOA move of the aiming point.
Top turret - is responsible for vertical adjustment. 
Turret on the right side - is used for horizontal adjustment.
Turret on the left - used to illuminate the reticle. You can choose one of 11 modes.
Parallax has been set at a distance of 100 yards and is no longer adjustable & diopter adjustment using dial near the eyepiece.
Equipped with an OT reticle located in the 2 focal plane. That means when you try to zoom in and out, the reticle will not adjust the alignment to the zoom. A picture of the reticle with dimensions below.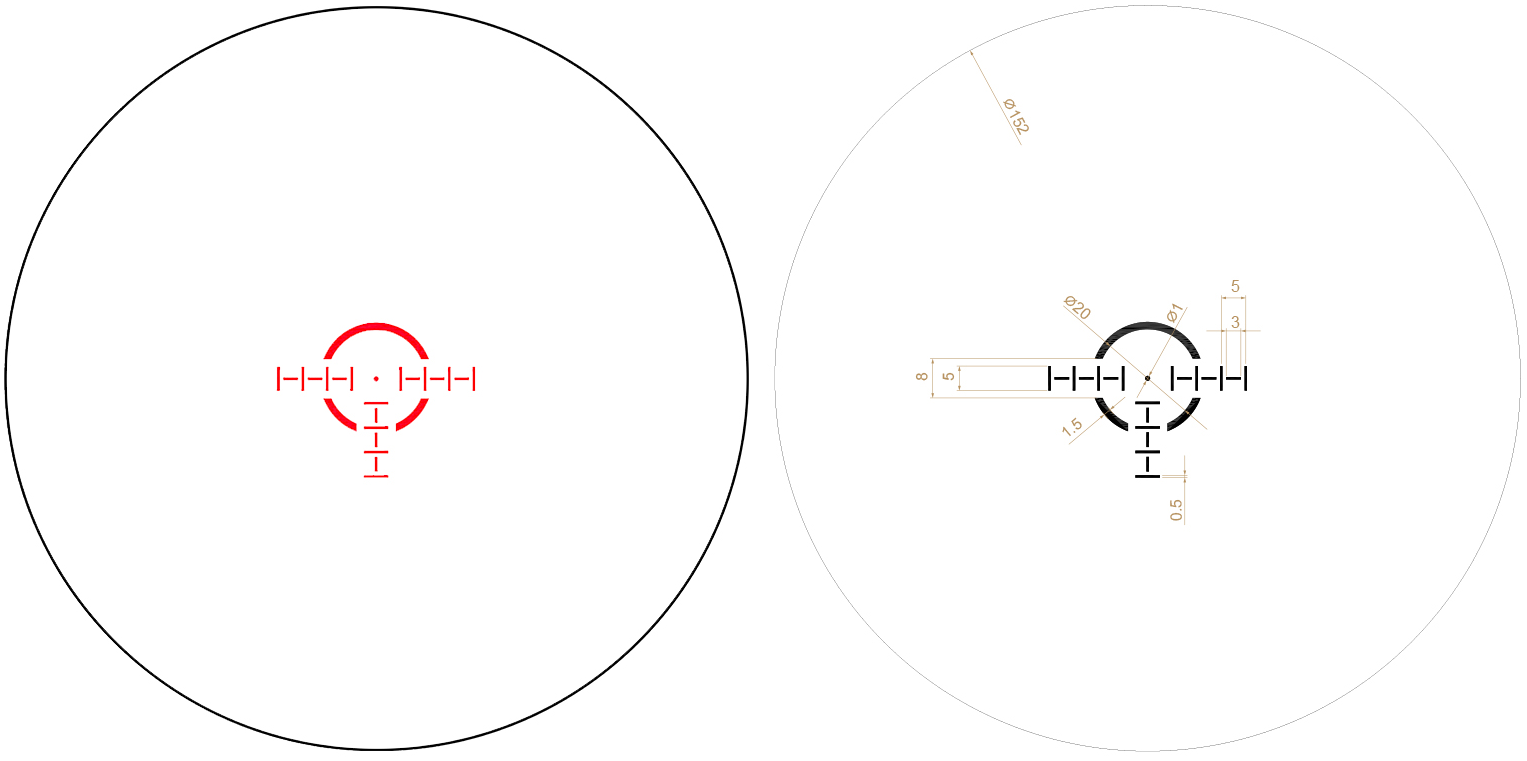 CONSTRUCTION
Made of 6061-T6 aluminum alloy - an aircraft-grade material with excellent mechanical properties, as well as excellent hardness. High strength-to-weight ratio. Riton uses CNC machining technology from one part of the tube, and hardening by anodizing - type III coating.
Cleaned and sealed with dry nitrogen - By using nitrogen, the optical system is cleaned and sealed to ensure optimum all-weather performance for the entire life of the optical system.
Riton HD Crystal Glass - Riton High Density (HD) glass provides 99.5% light transmission for enhanced clarity and optimal vision.
Lens coatings - Full coverage with multiple coatings : waterproof coating, coating to improve visibility in low light conditions, anti-scratch coating and anti-reflective coating.
Every product from the Riton factory goes through a rigorous quality control by a certified technician in Tucson Arison USA.
Glass protection caps included.
PRODUCT COVERED BY A LIFETIME WARRANTY. WARRANTY TERMS AND CONDITIONS :
Riton Company Promise :
As a part of the Riton Promise we believe in providing you with the best possible service, including the industry's best warranty. The quality of our products makes this the best warranty you'll likely never have to use; however, as hunters and shooters, we know that bad things sometimes happen even to the best equipment.
Warranty Types :
Lifetime Limited Warranty For Traditional Variable Optics

Two-year Limited Warranty On Electronic, Non-variable Power Optics
Our warranty is simple
Riton USA, llc (dba Riton Optics) warrants that its traditional variable rifle scopes (non-electronic) and accessories will be free of manufacturer defects for the lifetime of the original product owner from the date of purchase. Riton optics further warrants that its electronic, non-variable power optics products will be free of manufacturer defects for two (2) years from the date of purchase by the original product owner.

To begin a warranty claim, please contact Target Zone JAMMAS . You will need to email us at serwis@jammas.pl or call 22-250-10-59 with information about (I) the claimed defect and (II) where and when the product was purchased. You will also be required to provide proof of purchase to TargetZone JAMMAS

For a defective product covered by the warranty, Riton Optics will repair or replace it with a defect-free product. If repair or replacement of the defective product is not possible, we will offer a product of equal or lower value as a replacement. We will not replace the product with a previously repaired or refurbished product.

Komunikat dotyczący możliwości naprawy lub wymiany produktu zostanie przekazany w ciągu 14dni od daty zgłoszenia produktu do serwisu firmy JAMMAS

A communication regarding the possibility of repairing or replacing the product will be provided within 14 days from the date the item was reported to JAMMAS service.

The Riton Optics warranties will cover all owners, regardless of original purchaser. Subsequent owners are encouraged to obtain proof of purchase from the original product owner.
***This warranty does not apply to product loss, product theft, normal wear and tear, deliberately damaged products, negligence, and damage resulting from repairs made without Riton Optics' authorization.***