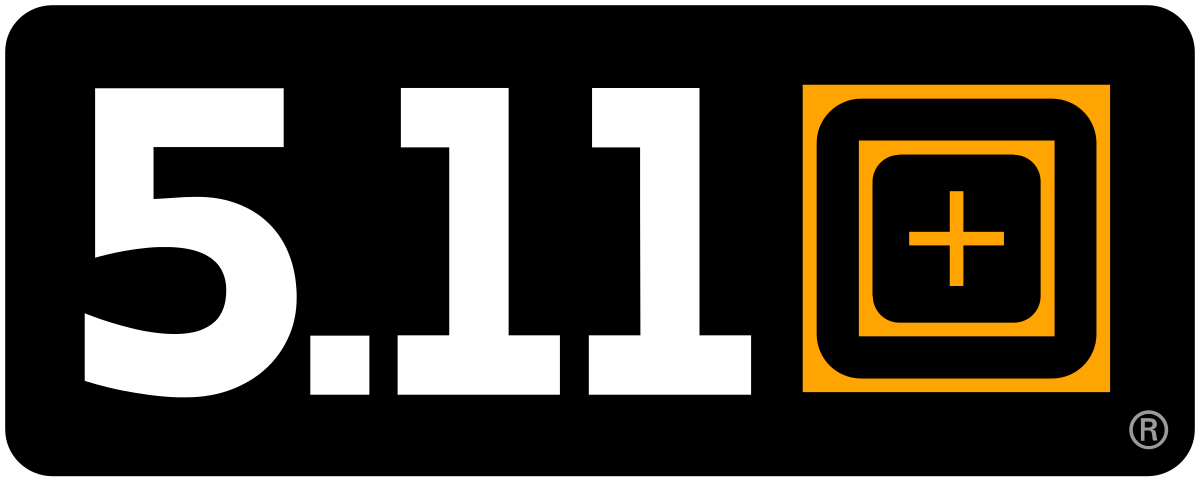 Accessories delivered by 5.11 are the jewel in the crown among the qualities cherished by this american company originated in the USA, which include durability and quality. And 5.11 backpacks are the personification of the main idea praised by the company, i.e. Always be ready. However, with these backpacks, there is no such issue. 5.11 backpacks cover 2 main families, which are RUSH and AMP. Apart from those, there exist not only a couple of the unique models likewise various all-purpose ones. The variety of choices is wide- there are multiple patterns, color and diverse schemes of pouches. Among them, there are backpacks perfect for urban trip (in such case 20-40 litres would be enough), likewise those a little bit more capacious (3-day Pack, of a 40 litres capacity) ready for longer sallies. Their assigned volume is not however limited by itself, thanks to the HEXGRID and MOLLE systems of an additional pouches attachment, the capacity of a backpack can be easily enlarged. System provides an ability of deploying the pouches with accessories according to our taste and comfortability. The aggregate of 5.11 backpacks is made of high quality nylon, durable and water-resistant material. Nylon exerted in these backpacks exhibit a thread count of 420D-1050D, depending on the model and location of a thread. The highest thread count covers 1050D which has been applied to zippers and the bottom of the backpacks, since these are the areas of the highest risk of ripping and wearing. The remaining areas have a thread of 420D-500D, so that backpack is not too heavy and at the same time durable and preserves the water-resistant property. Among the unique 5.11 backpack models there exist a Tac Operator ALS backpack and Select Carry Pack, which its unique triangular shape credit to its dedication of compact carbine with a foldable stock, carrying. The Select Carry Pack apart from its main chamber is equipped with a waist pack for pistol carrying. Inner backpack pocket is dedicated to 2-liter hydration system carrying, which affords a moment of cooling during a shooting training or outdoor trip. While being a 5.11 backpack equivalence, Select Carry Pack is kitted up with inner carrying systems like MOLLE, SlickStick System likewise Backup Belt System, which enable full customization of the arrangement of the capacity of our tactical accoutrement.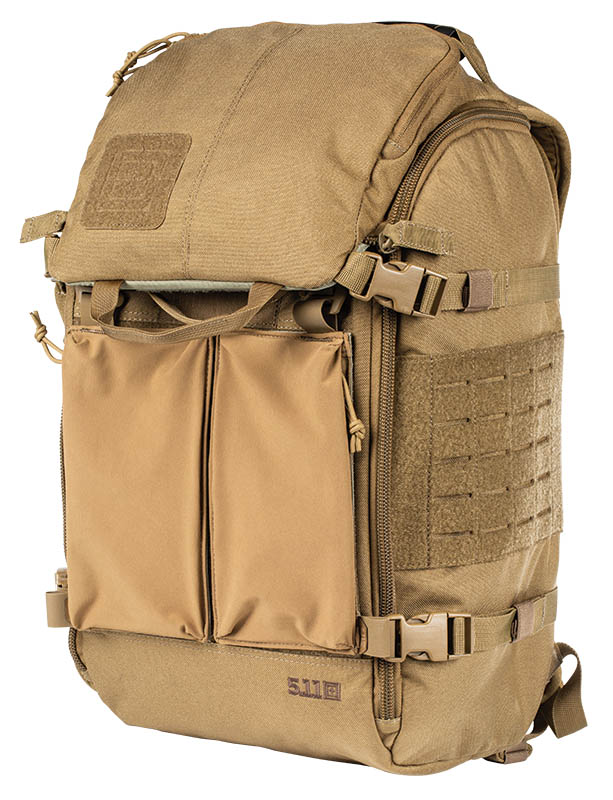 .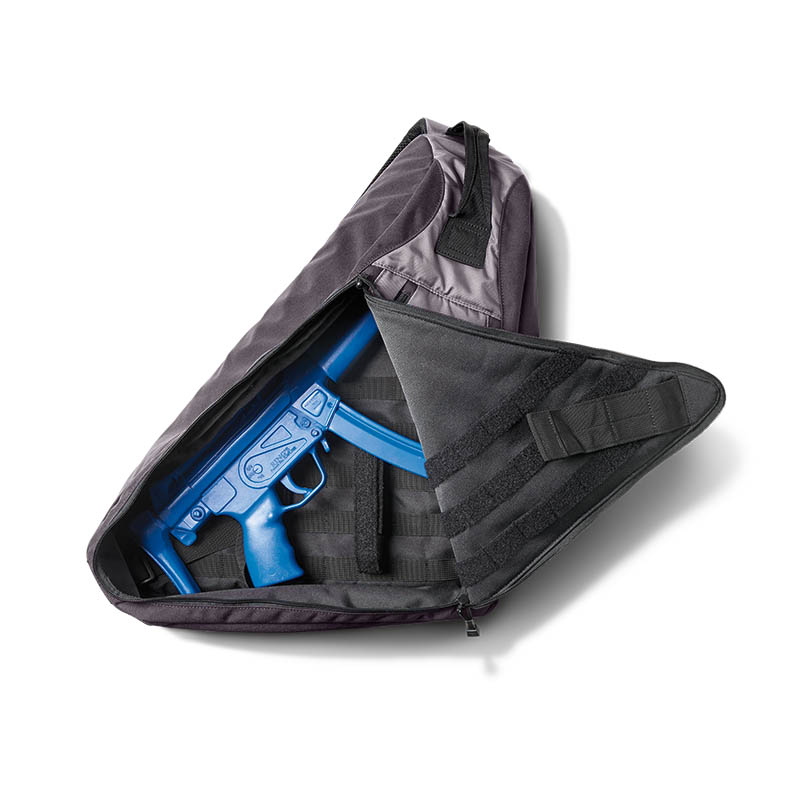 Tac Operator ALS Backpack                                     Select Carry Pack
35-liter Tac Operator ALS Backpack is just another level, dedicated in its design and construction to the obligations and work environment of the representatives of the medical services. Backpack is fabricated in a way, providing a darting access to its main chamber in which are located 4 integral medical pouches, each in a colour corresponding to its intended use, mounted on the inner back side of the backpack with a use of a patching system. Albeit that's not the end of the pouch capacity of the backpack, additionally on both sides of the inner chamber are located 2 compartments, which enable redistribution of the remaining medical pouches, worth of carrying. Each paramedic will find an external MOLLE system on the sides. Nothing is random in this backpack, each single inch of the inner chamber is designed in a way so that representatives of medical services could be always ready for action. Presented backpacks are among the most unique models offered by 5.11 company. However, when the rifle is not a necessary equipment or You have found a different vocation than saving people's lives; 5.11 is not taking You for losses. Outstanding execution provides high durability and workability, and unique military design are among the main virtues of these backpacks. This is the RUSH series! 
RUSH - meaning back to basics! Bulk, classic and practical!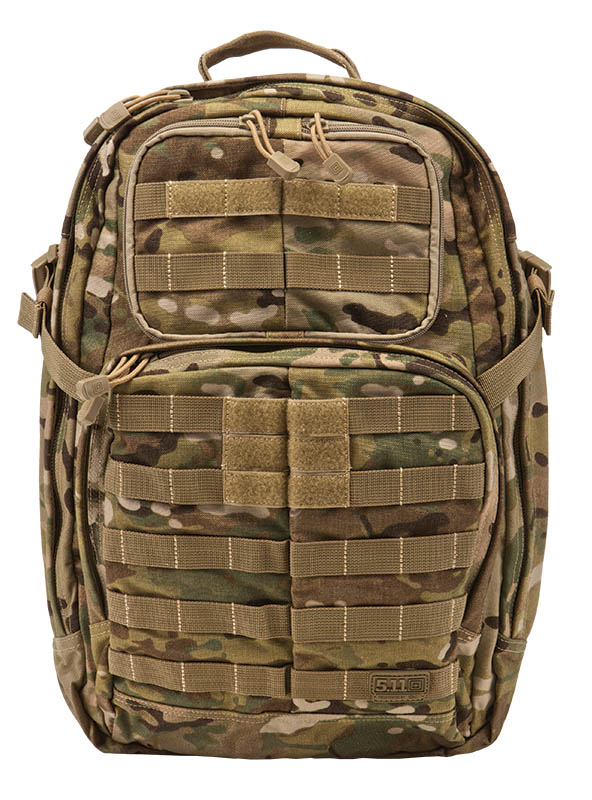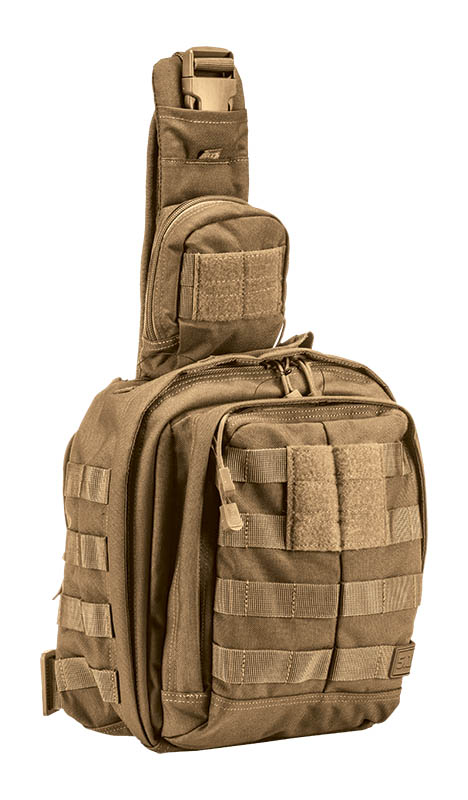 RUSH 24                                       RUSH MOAB 6
RUSH series offers backpack with a wide variety of capacity to choose from, from compact sub-series RUSH MOAB among which the smallest model is MAOB6 of a 11 litre capacity, to bulk monster of RUSH100 which 60 litres capacity ready to hold the equipment from way more than 3 days. Diverging from the extremes, the company offers 3 main back models, those for 12-hour everyday use of a 22 litres capacity RUSH12; upgraded full-day backpack RUSH24 offering the 37-litre capacity and vast, 3-day backpack RUSH72 with its full 55
litres. 5.11 backpack offer is constantly expanding. Each model of the series is covered with a
MOLLE system located on almost every single outer surface of a backpack. As such each user is able to customize his backpack according to his needs and expectations. Additionally, each RUSH series model (except for MOAB sub-series) is accoutred with a back compartments dedicated to safe-carrying of laptop, tablet or any other screen-device that needs to be appropriately protected. Basic 15 inch screen will fit every single basic model of RUSH series backpacks.
RUSH backpacka is a countless number of compartments and pockets, which not only will be able to hold every element of the every-day use but also be suitable for the long-time missions. Evidently, this series is a suitable solution for those who cherish having full-stuff always with themselves and in the right place, regardless of whether these are glasses, magazines or world-shrinking devices. Possibilities are multiple, and RUSH
series is ready to rule them all.
INNOVATIVITY this is AMP
RUSH backpacks embody the 5.11 classic, fully tactical, having a rest in the traditional military design. Well, take a deep breath cause we got to go forward. Straight to modern more urban design series of AMP (All Mission Pack). Similar to RUSH, AMP series offers multiple capacity options. It's getting crowded, let's bring up 5 generations. From the compact 16 litre AMPC Pack to 40 litre AMP 72 which just like RUSH72 is dedicated for longer trips and for bulk equipment. The most daily-light likely models are AMP10 and AMP12 with their 20 and 25 litre capacities, perfect for urban environments and one-day trips. However, if the capacity is not enough for the shooting range training or outdoor weekend breaks AMP24 with 43 litre capacity and AMP72 with its 40 litres, are ready to hold your outdoor conquerment attitudes.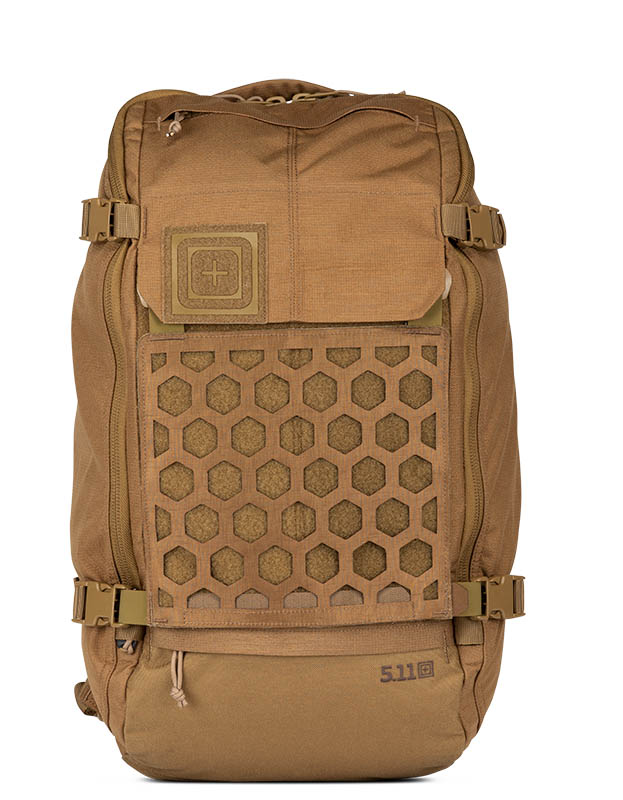 .                     
                             AMP24                                         AMP72
Every single AMP series backpack is equipped with a frontal HEXGRID panel compatible with same-system patch-mounted gear sets. Compression straps and a unique shape AMP backpacks can hold way more than they seem to. Additionally, they have padded back side and ergonomically profiled straps so that carrying even a cargo won't harm our backs and shoulders.
ALWAYS BE READY. Little makes the largest change.
What characterizes all 5.11 products is the philosophy according to which they've been designed and manufactured- "Always Be Ready". Relevant tactical backpack allows to carry equipment ready to service for at least one day. Depending on the compartment and pouches distribution, choice of main chamber organizer, 5.11 backpacks can carry the magazine covers, ammunition bags and various accessories, worth having by yourself. 5.11 is a quality guarantee, which for tactical equipment needs to be spotless. 5.11 backpacks can deal with everyday usage, outdoor, on duty or on shooting- just be mentioned down to earth needs. Backpacks are manufactured with the use of high-quality nylon, which thick weaves provide durability and comfort. All two-armed backpacks provide adjustable, wide and comfortable straps with Duraflex buckles and adjustable chest belt, which unweight the body during the toughest moments. BAckpacks also have an overhead hold, perfect for hand holding.
Next regular solution in a tactical backpack is the application of YYK® zippers. It's a foolproof and highly durable fastening system guaranteeing durability even in the toughest and extreme conditions. But, it's all in the details, accordingly the fastening system in the main chamber and in the front is secured by additional slat - making the zipper dirt-resistant, elongating its durability. Meaningful role in 5.11 backpacks is also played by CCW concealed weapon carrying compartment. No matter what you do, or where you go, your gun is always in the safe and specially dedicated compartment, to always be ready for your eventual use. The extent of the 5.11 backpacks offer is vast, ready to fulfill every one of our preferable necessities. RUSH is the heart and AMP are the lungs of the 5.11 backpack offer; making you ready to live and be yourself to the fullest. Additionally unique models like bulk RUSH100 and medical ALS provide systems perfect for You to Always be Ready!!